현재위치 : HOME > 제품소개
| | | | |
| --- | --- | --- | --- |
| | 제품명 : Low Temperqature Asher (PR300) | | |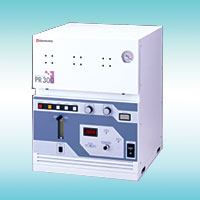 The PR 300 is a gas plasma device that is used widely for such applications as production of semiconductors and analysis work. It boasts outstanding operability and safety, with an automatic tuning system as a standard component and other features. It has a compact design, with a small-size RF generator and an oscillation section integrated with a portion of the chamber, allowing it to be installed into a 19-inch rack.

Three 64mm diameter chambers are included.


The unit boasts extremely high per area output (Approx. 0.17W/cm2), and can be set for a wide range of output conditions to handle a variety of testing samples.

Operation Flowchart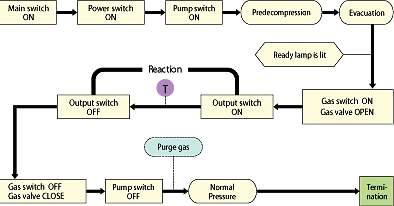 Piping System Diagram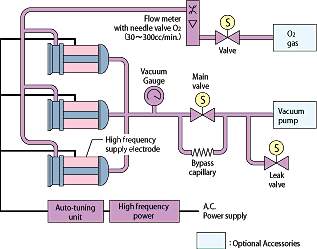 ---

Specifications
Model

PR300
Method
Barred type of direct plasma
Control part
High frequency output
300W variable (100W × 3 chambers)
Oscillating frequency
13.56 MHz
Output impedance
50 ohm
Tuning method
Manual biaxial tuning method

Instrument
Output watt meter (0 to 300W)
Reflected wave watt meter (0 to 100W)
Vacuum gauge, bourdon's tube type
Flow meter, needle valve integrated type, 1 complet set
Timer
0.1sec. to 999h
Gas inlet
1/4" stainless steel
Power source (50/60Hz)
AC 100/230V, single phase, 1 kVA

Reaction part
Reaction chamber
Made of super hard glass, ¢64 × 160mm × 3 rooms
Electrode structure
Condenser type, 2-way split
Control system
Auto pressure reduction, auto leak valve
Piping material
SUS, Teflon, copper
External dimensions
(W × D × Hmm)
438 × 520 × 556
Weight
Approx. 38kg
Standard Accessories
Vacuum grease
1 container
Lid for reaction chamber
4 sets
O-ring for reaction chamber
6 pcs.
Adapter for ground
1 pc.
Sample dish (large and small)
each 4sets
Optional Accessories
Sample dish (large)Sample dish (small) Sample shelf Stand